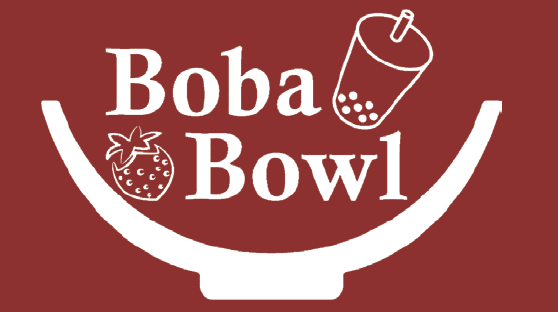 a: 127 W. Liberty St | Wooster, OH
w: www.mybobabowl.com
Jimmy Norris was a welder by trade. He built his career working long and hard hours in the industry while his wife, Becky, worked for the Wayne County Health Department. When the pandemic hit, life was put on pause and the Norrises took the time to reevaluate their careers. They always wanted to be in business for themselves, to be entrepreneurs in their community and create their own schedules. Starting a business from scratch is alot to take on, but they knew following their passion would be the right move for their family. Jimmy and Becky dreamed of running a restaurant, and even though 2020 was arguably the toughest year for restaurants in American history, they were determined to see their dream become reality.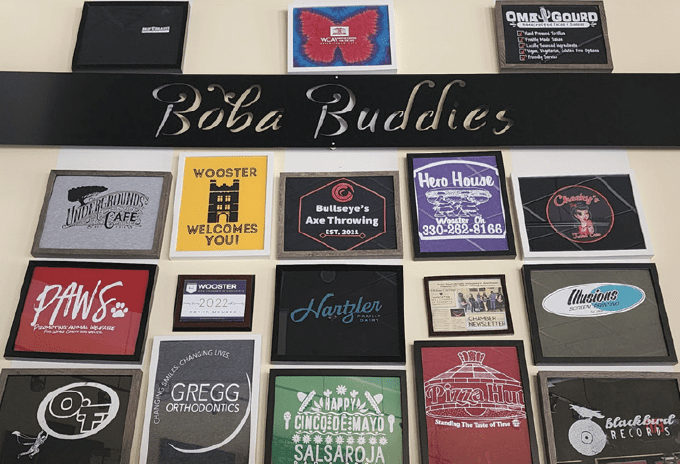 Boba Bowl is proud to support fellow businesses in the Wooster Community with their Boba Buddies wall.
While the Wooster community has always had a vibrant restaurant scene, one item was missing from local eateries. That is, until the Norrisses opened up shop. Boba, also known as bubble tea, is a Taiwanese specialty. The delicious drink made it's way to the United States in the 90s and has only grown in popularity. While the term boba has expanded to include a variety of flavored teas and toppings, traditional boba consists of cooked tapioca pearls paired with tea, creamer, and sugar. Jimmy and Becky stumbled across boba while they were out of town and, after the first sip, were hooked. They only wished they could find boba closer to home.
Boba Bowl opened on April 20th, 2021 with a staff of five family members. The Boba Bowl family didn't know what to expect on that first day, but jitters quickly faded as they served a crowd nonstop from 7am to 7pm. Business stayed steady over the next few months as the community embraced Boba Bowl with open arms. Any doubts Becky or Jimmy had washed away and they knew they made the right decision.
The key to their success is simple: Boba Bowl isn't just a bubble tea shop, it's a bubble tea experience. Jimmy, Becky, and the entire team know trying a new food can be intimidating. Becky explains, "We are not the typical bubble tea shop. We work with our customers to make sure the experience is enjoyable. We're small town people, bringing global flavors to our neck of the woods." They remain devoted to quality as they only source bubble tea ingredients from a top-rated supplier. Keeping everyone's dietary preferences in mind, Boba Bowl offers sugar-free flavor options. Fruit teas are vegan friendly and free of gluten, dairy, seafood, and nuts. Milk teas are gluten free, lactose free, seafood free and are vegetarian friendly!
Once Jimmy and Becky found their groove, they were able to add more bobaristas to the family and continue to evolve the business. They offer a wide menu of traditional and fruit teas, crepes, crumbowls, mochi, smoothies, and other seasonal specials. Becky was even able to bring her passion for crafting to the business with a wide assortment of boba themed gifts such as key chains, jewelry, shirts, and even boba themed shoe charms. Paying homage to boba's Taiwanese roots, Jimmy and Becky have brought in a large selection of asian candies and snacks to further enhance their retail offerings.
Becky combined her passion for crafting and love of boba to create a wide assortment of accessories such as key chains, pins, jewelry, t-shirts, and more.
Boba Bowl's success extends beyond their downtown Wooster location. Jimmy and Becky launched the Sweet Escape mobile food truck and found themselves on an unexpected path for growth. Jimmy explains, "we started the truck as a marketing tool to raise awareness for the store.We'd take it to local events and use it as an opportunity to educate the community on boba. We had no idea it would be so popular and we even struggled to keep up with the demand. With some adaptations, we started hitting the fair circuit and other Ohio events. Now we bring the Boba Bowl experience all over Ohio."
"We aren't just a grab and go cafe; that's not who we want to be. Our customers are our neighbors, family, and friends, not a ticket number. You don't need a understanding of bubble tea to stop in. It is our job to answer questions and help find your new favorite treat."

- Becky Norris
What's next for the flavor taking Wayne County by storm? Continued growth. With plans to franchise, Jimmy and Becky are excited to continue to grow their business and bring the Boba Bowl experience to more customers. Stop in at 127 West Liberty Street and discover your new favorite drink.
Boba Bow's Sweet Escape Food Truck brings the Boba Bowl Experience all over Ohio
Boba Bowl a: 127 W. Liberty St | Wooster, OH w: www.mybobabowl.com Jimmy Norris was a welder by ...