w: budgetblinds.com/wooster-oh
p: 330-769-6255
Before finding their entrepreneurial home with Budget Blinds in 2015, Jenn and Jason Page were in the car hauling business. Longing for a business structure that better fit the needs of their family, Jason began researching different avenues, including franchising opportunities. How did the Page family decide to get into the blinds business?
From initial consultation to installation, Jenn & Jason take great pride every step of the way.
Jason explains, "It was an accident. I heard a commercial for franchising and it caught my attention. Once I took a good look at it, I realized it required a huge start up cost, warehouse, trucks, multiple employees, and more. I knew that wasn't for us. Turns out, the company had a sister organization that was a much better fit for us. The more research we did into Budget Blinds, the more excited we became. Window treatments isn't a business I dreamt about as a kid, but I've come to find this business is like a dream come true."
In 2015, Jenn and Jason officially launched their business. Jason went to "Blind College" in California to learn the business inside and out. He had the knowledge and tools he needed to return to Ohio and build Budget Blinds of Wooster from the ground up on day one. Jenn and Jason view their business as more than selling window treatments. The goal is to solve whatever problems their customers are facing with an unmatched level of care.
Budget Blinds offers shades, shutters, blinds, drapes, & more for all window treatment needs.
Jenn and Jason work hard to ensure customer satisfaction from the first phone call to years down the road. The Pages take great pride in what they do, and it shows. Customer Vicki H. shares her experience, "My husband and I moved here from out of state into a house that was all window and no covering. We didn't know where to start, so I contacted Jason and Jenn at Budget Blinds. There were so many options, but I was able to depend on their expertise in guiding me to what was best for my home and our needs. The installation was smooth and everything looks amazing! I highly recommend this team as they are an absolute pleasure to work with!"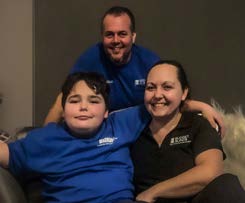 Jenn and Jason have seen highs and lows during their years as business owners, but nothing could have prepared them for the COVID-19 pandemic. As the economy dipped and face to face meetings were canceled, the Pages worried about what the future had in store for Budget Blinds of Wooster. Fortunately, they built their business with a strong reputation, and their loyal clients continued to call. From the initial call, Jenn is sensitive to the needs of every client, and she and Jason take every possible precaution to keep their customers safe when they enter the home. From consultation to installation, Jenn and Jason are the only ones customers will work with. No third party installers or sales reps means the Pages can ensure every step of the process is handled with care and clients can rest assured knowing who will be in their home.
"Businesses fail because they focus on selling a product, but that's just not how Jenn and I do things. We want to connect with people in our community– whether it's a first time home buyer, our neighbors down the street, or a recent widower that needs Jenn's design expertise. I get a great sense of pride every time Jenn and I are able to listen to a client and build connections that last beyond the sale."
Jason Page
Jason attributes their success to the loyal Wooster community and Jenn. "We wouldn't be where we are today without Jenn. I love when she comes to appointments with me. She can provide a woman's opinion and goes above and beyond to serve clients. Our business is a partnership and team approach. Between the two of us, we provide the whole package. There have been highs and lows over the years, but I am proud of where we are today." For blinds, shades, drapes, and more, contact Jenn and Jason at 330-769-6255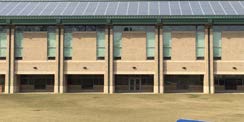 The Pages have worked with both commercial (like the College of Wooster shown here) & residential customers all over Wayne County.
Arukah Functional Wellness a: 313 E Liberty St. | Downtown Wooster p: 330-646-3078 In the late 90s, Tanya ...