In the spring of 1950, Dick Shaw and Dave Ott opened Shaw Ott Drugs in Mansfield. The drug store initially filled prescriptions and offered refreshments such as soda fountain drinks, milkshakes, and even sandwiches. The business grew faster than Dick or Dave ever imagined and by 1968, Shaw Ott Medical had expanded to five locations with a growing list of products and services. When Ary Van Harlingen joined the team to work in one of the warehouses, he quickly found himself in management. When Dick and Dave were looking to retire, Ary purchased the business and took over May 1st, 1979.
A durable medical equipment company, Shaw Ott offers hospital beds, wheel chairs, walkers, respiratory equipment, oxygen tanks and machines, lift chairs, and much more. The company utilizes public programs and a well educated team to keep the community safe, whether it's providing home health supplies to keep senior citizens in their home, or installing handicap accessible home modifications for those with disabilities.
When Ary took over, he wanted to care for every customer as if they were family. He puts it best, "as we get older, our situations change. Friends and family may pass or move away and the world can become a lonely place. We focus on building relationships with our customers. It's common for customers to call and ask for Steve, Amy, or Cara–whoever they work with the most." One of these calls came from an elderly woman on oxygen. She lived alone and didn't have any local family. Every year around the holidays, she'd call in stating her oxygen machine was faulty. Someone would go out, look at it, and take the time to talk with her until she felt better. Ary explains, "We knew that nothing was wrong with the machine, but we took the time to visit and listen. It made a world of a difference."
Stories like this are common at Shaw Ott. When Diane fell in her bathroom and hit her head, she had a long road to recovery. After months in the hospital and rehab, she wanted nothing more than to move back home with her husband, but the stairs in their two story home posed a problem. Desperate for a solution, Diane called Shaw Ott. She was shocked to learn that Shaw Ott carries stair glides in stock and was able to have it installed before she came home at the end of that week.
When asked about the biggest challenge in the business, Ary didn't think twice, "the toughest obstacle we face are the people that need help, but don't want to admit it. The funny thing? I'm one of them. I have arthritic knees. My family hounded me to use a scooter but I didn't want to admit I needed help. I finally listened to my wife and used it. Now I can't imagine going on vacation without it."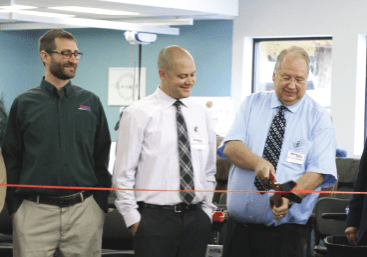 To help educate potential customers on a wide array of products, Ary has invested into a new state of the art showroom. Members of the community can stop in and see various devices and products as well as home modifications on display. Allowing people to see their options eliminates the unknown that comes with ordering from a catalog or online. Shaw Ott Medical is the only place in the area to experience products and home modifications hands on. Whether you need help today or your loved ones might in the future, the team at Shaw Ott Medical wants to invite everyone to utilize their new showroom as a resource. Stop in to see for yourself at 270 Lexington Ave in Mansfield or call today at 419-524-4388
Pumpkin Seed Market Co. a: 1625 Executive Dr. | Mansfield, OH w: ThePumpkinSeedMarket.com p: 419-525-5500 In 2009, Eric ...